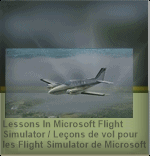 .home page .back Tutorials. GA Planes
How to Handle Wind at Landing?
The question of how to handle wind at landing holds two aspects. On the one hand, a approach and landing may have to take in account a important crosswind. On the other hand, some specific wind conditions may interfere, like a wind shear
How to Land With a Crosswind?
A strong crosswind during a approach and landing which a pilot would not counter would lead to that the plane shifted laterally from the runway axis or that landing proper could be dammageable for the landing gear. Should the pilot counter a crosswind in a improvised manner, that would bring a disordonated flight and a questionable touchdown too. Two standard ways of flying a plane for a crosswind landing are extant
the crab method: that way of landing with a crosswind consists simply into to fly down to the runway threshold with a appropriate crab angle to the wind. Once the good angle found, that allows to track the runway axis by balancing any shift due to wind. Once that first part of the work done, you will have too to take action at the moment of the roundout and touchdown. Tt is necessary then to bring the plane back to the runway axis, which is done through rudder and with some complementary aileron into the wind too. The touchdown in those conditions occurs on the upwind wheel first. Let's describe the pratice of such a crab approach with, in that case, a crosswind from the left! During the approach the pilot will have thus corrected the plane's trajectory through a appropriate crab angle into the crosswind and the plane is now descending to the runway threshold. Once at the roundout, and into it, you will just input some right rudder to have the plane nose with the runway axis (as that will also oblige you to put some stick or wheel into the wind as the plane would have a tendency to begin a right turn otherwise), AND you touch down in that configuration! The landing gear will first touchdown with the left wheel. Just immediately land the right one with the stick or wheel, with a appropriate action unto the rudder to keep the plane into the axis
the wing-low method: that second method was deviced as some pilots found that the crab method might present a discomfort to the plane's passengers. The wing-low method consists into to sligthly lower the plane's upwind wing like one would want to begin a crab angle correction, but, the, to use rudder to bring the plane nose into the runway axis as soon as that moment. The plane thus is descending to the runway threshold along the latitudinal axis, with a slight inclincation into the wind. Let's describe now such a approach and landing (with a left crosswind like in the previous description)! Just put some aileron left and immediately put some appropriate rudder right. The plane now is sideslipping somewhat down along the runway extended centerline as the left wing is slightly inclined (note! any latitudinal correction has to take that configuration into account as from now!). Once at the roundout moment, landing is performed with the approach configuration in terms of aileron and rudder input. That brings the plane to touchdown with the left wheel first as you will immediately land the right wheel with aileron right (with rudder appropriately left to keep the plane into the runway axis). Such that inbalance at touchdown is more pronounced that when touching down with the crab method
It looks like pilots in the USA are adviced to use both method jointly during a approach and landing as they first fly the crab method on the approach and transition to the wing-low method for the roundout and touchdown by some 100ft AGL
Other Wind-Related Conditions at Landing
Wind may also interfere in a more dangerous manner with a landing. You will note that the wind conditions described below also may be encountered at takeoff
wind shear occurs when two winds with different speed or direction encounter in the landing area, which yields turbulences. The plane then may have its speed to vary very strongly and to risk to endure brutal changes in altitude. Wind shear conditions may result from varied weather. A pilot will have to counter a wind shear through some additional speed at the purpose to avoid any stall
micro-gusts are violent descending currents due to thunderstorm conditions as they also may be generating a wind shear. A micro-gust will first be felt like a strong headwind and will swiftly into a strong tailwind with a descending current, which is a hazard during a approach and landing. The pilot will just counter the micro-just through a full throttle applied and a immediate climb
Website Manager: G. Guichard, site Lessons In Microsoft Flight Simulator / Leçons de vol pour les Flight Simulator de Microsoft, http://flightlessons.6te.net.htm. Page Editor: G. Guichard. last edited: 5/27/2013. contact us at ggwebsites@outlook.com