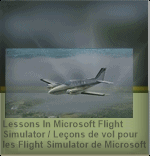 Lessons In Microsoft Flight Simulator / Leçons de vol pour les Flight Simulator de Microsoft. A Site to Enhance Your Flight Experience With the Microsoft Flight Simulator Franchise! / Un site qui améliorera votre pratique de la simulation de vol dans les Flight Simulator de Microsoft!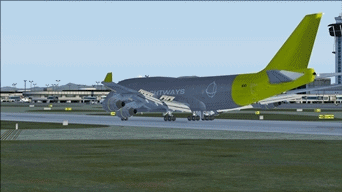 Picture of the Day / Image du jour. A Boeing 747 cargo just landed at KLAX, Los Angeles, USA (that picture was also published in the MSFS Screen Shot Forum of the site FlightSim.com) / Un Boeing 747 cargo juste après l'atterrissage à Los Angeles (KLAX) (cette image a été aussi publiée sur le forum MSFS Screen Shot Forum du site FlightSim.com (site en anglais)) (note: picture is updated on a irregular basis only. You may check a archive to our Picture of the Day / la mise à jour de l'image ne se fait que sur une base irrégulière; voyez des archives de l'Image du jour!)
During that COVID-19 pandemic, our websites can keep being updated! Good luck! get informed with your country's appropriate official site (in the USA: Centers for Disease Control and Prevention (CDC) for example) / En cette pandémie de COVID-19, nos sites web peuvent continuer d'être mis à jour. Bon courage! informez-vous sur le site officiel adéquat pour votre pays (en France: informations Coronavirus par exemple)
Next FS / Nouveau FS! Next Microsoft Flight Simulator to Come by 2020! / Un nouveau simulateur FS par Microsoft pour 2020!
English . This site is featuring flight lessons to be used with the Microsoft Flight Simulator franchise. These tutorials have been deviced for the improvement of your practice of flight simulation towards a immersive experience.

. Introduction . General Tutorials . GA Planes . IFR . Airliners . Helicopters . Aerial Tales . Downloads. to mandatorily read! Precautions of Use
Français . Ce site est consacré à des leçons de vol pour les Flight Simulator de Microsoft. Les tutoriels ont été conçus pour permettre aux pilotes flightsim d'améliorer leur pratique de la simulation de vol et d'aboutir au réalisme de leurs vols.

. Introduction . Tutoriels généraux . Avions de tourisme . Vol IFR . Avions de ligne . Hélicoptères . Récits aériens . Téléchargements. à lire impérativement! Avertissement
Disclaimer | Copyright | Privacy | About Us
Données légales | Copyright | Respect des données personnelles | Qui sommes-nous?
check more sites (amateur astronomy, Carolingian times' learning, balcony vegetables gardening, world's trends) by this site's webmaster! / d'autres sites (astronomie amateur, culture à l'époque carolingienne, jardinage de légumes en balcon, actualités du monde) par le webmaster de ce site!



Website Manager: G. Guichard, site Lessons In Microsoft Flight Simulator / Leçons de vol pour les Flight Simulator de Microsoft, http://flightlessons.6te.net.htm. Page Editor: G. Guichard. last edited: 7/15/2013. contact us at ggwebsites@outlook.com